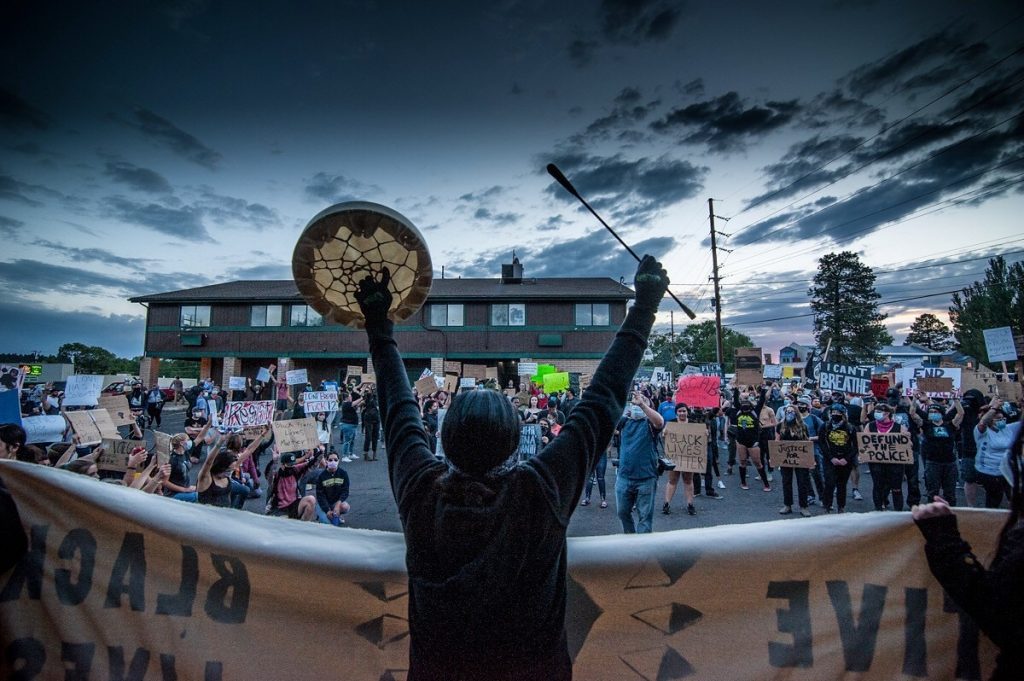 Submitted by Anti-colonial bloc, Kinłani Faction
**We hold ourselves accountable and offer apologies for the use of the term UT**
Occupied Kinłani — Last night more than 400 people converged for an "All Out Against Police Violence" action in East Flagstaff. The demonstration was called in response to the murder of George Floyd and the wave of uprisings occurring throughout Turtle Island. The action was coordinated by Indigenous People to also show solidarity and connect the issues of extreme disproportionate policing facing BIPOC communities, the reality that Indigenous Peoples per-capita face the highest rate of murder at the hands of police, and ICE raids and deportations that continue to terrorize and tear families apart.
The action began quickly with a jail support number shared as threats and disinformation were circulated before the action by the pigs. Dozens of police vehicles and about 50 National Guard were stationed nearby. Some local business owners were warned to be prepared for "looting" and "rioting." To this we say it's laughable to think we have intentions of looting our own neighbors! This area and this whole continent was and continues to be looted (from Black Mesa to Canyon Mine to Oak Flat and beyond) by settler colonizers while their law enforcers have killed our people with impunity.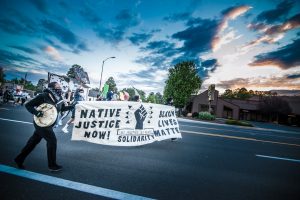 Indigenous organizers and youth led the march through the "Sunnyside" pushing a shopping cart filled with water, extra masks, hand sanitizer, and other essential mutual aid supplies. The crew carried a banner with the words, "Native Justice Now! Black Lives Matter! No Justice No Peace. Solidarity." Chants echoed throughout the neighborhood of "Out of your houses, into the streets," and "Whose streets? Our streets! Whose land? Native Land!" as well as "Black Lives Matter!" and "No justice, no peace, fuck the police!"
Our neighbors responded with support as many joined the march.
Organizers had initially planned to go to the place where Kyle Garcia was murdered by pigs in 2006 but in many ways it was better we didn't, as it became more clear that many of the interlopers attended just to police BIPOC rage. Carrying signs of "White silence equals violence" a white mob aggressively stopped an Indigenous person from pulling traffic signs into the street to slow oncoming traffic behind them (a necessary tactic to prevent Charlottesville-type situations).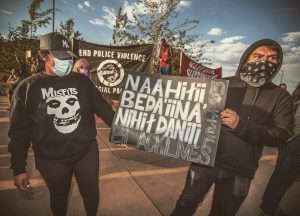 Other white "allies" denounced the proclamations of "fuck the police." These self appointed movement police worked to suppress Indigenous rage as true colonizers maintaining white supremacy.
The march took the intersection of Fourth Street and Seventh avenue with most there "taking a knee" in a performative gesture which has been challenged in other communities due to the pig who killed George Floyd knelt on his neck. The group then headed towards the police substation and stopped to rally there.
This is where solidarity hit its dead end.
As a two-spirit queer Indigenous agitator spoke and talked about their rage and the power of this moment, a Black man shouted over them to showcase his performative allegiance to "loving" police. This two-spirit individual was in the middle of naming the violence that takes place on the police's blood stained hands. The agitator asked the crowd, "do you understand what is happening here in the Sunnyside area?" A white man yelled back, "people doing a lot of drugs." The agitator, with all the rage necessary to defend our Black and Indigenous community members who reside in Sunnyside, said, "You need to get the fuck out. If you don't understand the issues at hand that impact the lives of Black and Indigenous people, you need to fucking leave." At that moment the Traitor came out of nowhere and with a mega dose of white and police sympathy said, "there is no place for anger here." Necessarily enraged, the agitator proceeded to speak the truth about why anger is so critical to voicing struggle and pain. He then proceeded to take the megaphone from the two-spirit individual and later gave it to a police officer so the police officer could say, "Black Lives Matter". Let that sink in for a moment.
A debate raged with some in the crowd confronting the liberal shitshow by condemning the shutdown of queer Indigenous voices. Some were chanting "we want peace." At some point while identity politics was at its peak a loud crash punctuated the moment. Someone had enough talk and took matters into their own hands by smashing the police substation window.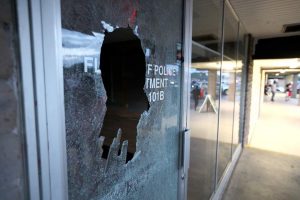 We welcome and support that gesture. The white movement police sprung into action and attempted to grab whoever they thought was responsible. A white accomplice and some Indigenous relations blocked the mob of white movement police who clearly were ready to turn whoever they could over to the very police they were allegedly there to protest. This is the fallacy of solidarity. When Indigenous rage is silenced and attacked, the reality of white supremacy and Traitor bootlickers is exposed. But we haven't expected much here as Indigenous Peoples have been brutally attacked by police and face the highest arrest rate based on ethnicity in Flagstaff. When we've organized protests none of these liberals were there standing with us. None of these white movement police showed up after Matt Dearing was shot in the neck by FPD and survived only to face prison. And we're sure that none of them will be there when the next Indigenous relative is brutalized or killed by these pigs.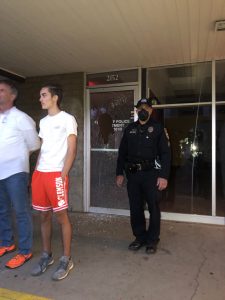 As this fascist world crumbles there will be no room for liberals who weaponize the identity politics of blackness, or any oppressed identity for that matter, to shut down the necessary rage required to abolish the police state. We are watching black genocide at the hands of police live streamed. We have undocumented relatives dying and abused in concentration camps hidden from view across the state of Arizona. White supremacy is stealing and murdering our indigenous women and two spirit people and the pigs are involved in that violence. Whether it be criminalizing our unsheltered and assaulting them in jail or refusing to take seriously the MMIWGT2S cases, for example, the deafening silence of Ariel Bryant's murder. Each of these instances of fascism are a part of the ongoing legacy of anti-black and colonial violence that this settler state was built upon.
Let it be known that we stand in solidarity with Black radicals, and we do not abide by performative gestures aimed to please "all lives." Please read: https://www.aljazeera.com/indepth/opinion/black-liberal-time-george-floyd-200601155933648.html
Just as there is a strong history of police violence in Kinłani there is an even stronger resistance to such. Your liberal cries to "love the police, they are our friends" is starting to sound like fed work. Intentional attempts at pacifying a crowd and halting a movement will be fiercely resisted. When you say that we should not be fighting ourselves remember that neither cops nor cop apologists are a part of this movement, rather they are what we move against. Calling for "peaceful" protest is an act of privilege. It ignores the reality that these are not at all peaceful times for queer, two spirit, Indigenous, undocumented, black and anti-fascists. To be peaceful while the brutal wars against our bodies and lands are being waged ruthlessly is to choose the side of those waging these wars against us. Policing actions towards "peacefulness" is violence against BIPOC. We will fight back with everything we have.
Let's make one thing clear: if you believe more people would listen if we protest or said things "peacefully," then your so-called solidarity is performative. Your so-called solidarity is racial gaslighting. Your so-called peace-making is violent and oppressive.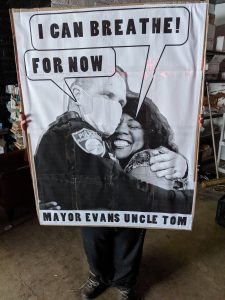 Show up for collective liberation or get the fuck out. You may as well be on the side of the cops hugging them and the state violence they represent like the sell-out Mayor Coral Evans did just the night before (without a mask on of course).
Our armed Indigenous relatives with loaded ARs and a sign reading "Armed Minorities are Harder to Oppress" took things seriously. They were juxtaposed with armed business owners that were more dangerous armed with misinformation spoon fed to them by the state.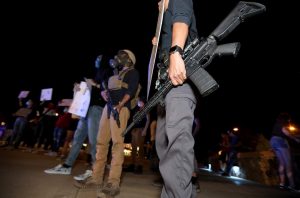 When we speak of "No Justice on Stolen Land," we mean it. We share no space with BIPOC collaborators of settler colonialism and racist law enforcers. This isn't anti-blackness, this is anti-state collaborator, this anti-white supremacy and anti-colonial, and it's fucking necessary.
Last night was a moment for collective grief and rage. It was nearly co-opted by liberal bootlickers but we wouldn't let that happen.
In our critical report we also celebrate the tension and success of this powerful evening:
That hundreds of us marched through the streets in the face of threats of extreme police violence.
That although liberal movement police and Traitors disrupted our disruption, many more young people are radicalized and perhaps will find more meaningful ways of acting with, rather than against, BIPOC rage.
That an optimistic force embodied our rage and eased some of our frustrations by breaking some windows (we have no tears for broken windows over the lives of our people) and though was harassed after, was subsequently welcomed back into the demonstration for the remainder of the night.
That another demonstration occurred across town with equally large numbers (though much whiter and hostile to BIPOC rage).
That although so many pigs, fascists, and National Guard were on standby for unrest, we collectively defied their curfew and took all the time we needed.
That no one was arrested during this pandemic.
Overall we wish to make this clear to all those that value property above life and who seek reforms to "defund" and show love to the police, fuck you too. We seek to abolish the state & ICE for a world free of police and policing.
Show up for collective liberation and embrace diversity of tactics. We can't proclaim solidarity in any meaningful way with those seeking to collaborate with colonial violence.
For those who find themselves sharing our frustrations and rage, we'll see you in the streets where we'll be at your side fighting the police and movement/peace police if necessary. This is what mutual defense means. We got your back.
—